Gidday there and welcome to The Happy Pup a site devoted to puppy play and pup play gear with a focus on the gay pup play scene. I also have a fellow site on human pup play safety @ The Pup Safe Project
Welcome
Gidday! I'm Gpup and I'm a human pup currently living in Melbourne Australia.
I've been into pup play for a while with my journey having just started recently . I'm proud to say that my puppy play training is going well. I am learning with guidance from a fantastic master and I now have a wonderful pup brother who is a wonderful friend. (he's a human pup as well)
As part of sharing my passion for puppy play I thought it would be good to document my journey in human pup play as well some of the awesome pup play gear I have acquired. It's a fun hobby but if the pack gets any bigger I might need a trailer!
Essential Puppy Play Gear
As a start I wanted to share the following tip when it comes to picking up essential puppy gear. Every pup needs a tail, a collar and a mask. Each item adds to the feel and emotional connection to being a pup, each part has a different role.
Your Puppy Tail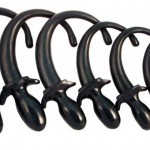 For me the most essential item if a tail. I still have the happiest memories of inserting my first tail. Feeling the rubber slapping against my legs puts in my pup space faster then you can say sit, stay, good dog…
By far the best pup tails are Square Peg Puppy Tails. Made with with the highest standards I can wear my tail for hours on end without any pain, discomfort or burning that can come with some of the cheaper grades of silicone.
A Pup Play Hood
Next essential item is a pup play hood. Puppy's have moods and I have a mask to match my moods. Feeling a little aggressive? I wear my leather puppy hood, when I've feeling like play it's definitely my RubberDawg Hood that I reach for.
While I enjoy having different puppy play hoods for different moods, my absolute favorite is my RubberDawg hood. Made especially for me the workmanship is amazing. I highly recommend checking out RubberDawg's gear.
Absolute Must Have Pup Play Gear: A Collar
The final piece of the puzzle is the Puppy Collar.
To be collared is a very special moment in a human pup's life. It means having been brought in from the cold of stray life and into the warms of servitude to your master your trainer in human puppy play.
If you have a Master be sure to talk to them about what sort of collar is going to be best for you. I have a wonderful metal puppy collar for out and about, and a leather one for when Sir needs me close at his side. Again, I have a selection to suit my mood and each puppy collar has a special meaning to me.
Don't Forget Some Fun Pup Play Toys
If you have a piggy bottom pup in your pack, be sure to check out the Fat Boy Penis Extender. It's sure to fill even the greediest pup ass making him howl and growl!
Still training your ass to accept your pup tail? I highly recommend playing with the Pod Butt Plug, heaps of fun and a great stretching tool.
Over time I will be adding some more fun items that I enjoy, like this awesome Puppy Wrist Band. Stop by again soon as I'll be updating with fun new toys.
Newly added! Puppy play chastity devices and cock cages! Lots of different choices for exactly how you wish to ensure your pup is not going to be touching themselves while Master is not watching!
Hugs, tugs and happy puppy play.
Gpup.