One of the best things about being a pup is the chance to dress up in some amazing puppy play clothing and gear. There are many choices available for the pup, each choice can reflect your mood. Whether you are a rubber pup or fan of the human leather pup there are many choices available.
Take for example the pup play shirts created by Gpup Alpha himself. You can check out the full range of shirts by clicking here:
For the ruff and tumble of a pig pup you can't go past the choice of some nice leather pup play gear, leather pants are great for out and and about but not always practical. I'm a big fan of leather shorts, knee pads and boots for when I am in a leather pup mood.
For when I am in a more slippery, sensual mood I love to slide into the warm moist enclosure of a rubber puppy play suit. I love the feel of rubber tight against my skin. It's smooth slippery feel has me hard as a rock before you can say "down boy".
Puppy Play Clothing Ideas
For my puppy piss play my absolute favorite has to be my neoprene puppy play surf suit Like rubber the neoprene sits nice and tight against my skin. What i like about neoprene is its spongy feel that holds a scent. This way you can relive your time with master even when curled up on your pup matt.
Neoprene is great as it's a lot more robust then rubber but still has that wonderful wet, warm feel that I love about rubber. Getting in an out is also much easier. No need for lube to get into this gear, just a dousing of you masters piss and you're into your suite quick as a flash.
While you can pick up a neoprene surf suit almost anywhere it's certainly worth considering buying one of the hand crafted suits from places like Mr S due to the perfection positioning of zips that make access to pup's cock and ass straight forward. The zips also mean a tail can be worn allowing heaps of wagging fun.
Of course if you are a rubber pup you can't go past the sexy rubber surf suit.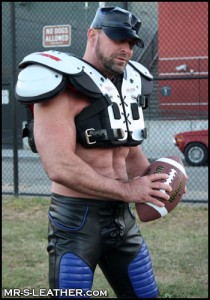 If you are looking for a rugged sexy pair of puppy play pants you can't go past this pair of leather football pants created by the team at Mr S Leather.

I love the style and they fit easily around the knees so knee pads to be added to help keep my puppy knees comfortable for when I am working with my master.

These pants, knee pads, a nice set of boots and my favorite leather puppy hood are most certainly my summer uniform for my puppy play in the park 🙂 .

Available with black, yellow, red and blue padding on the thighs you are able to indicate your particular passions to a world of potential puppy playmates. I'm ordered mine in blue, pictures of these and my other puppy play clothing soon as they are going to be in my post box early this week!